Hell Combat - Anniversary Special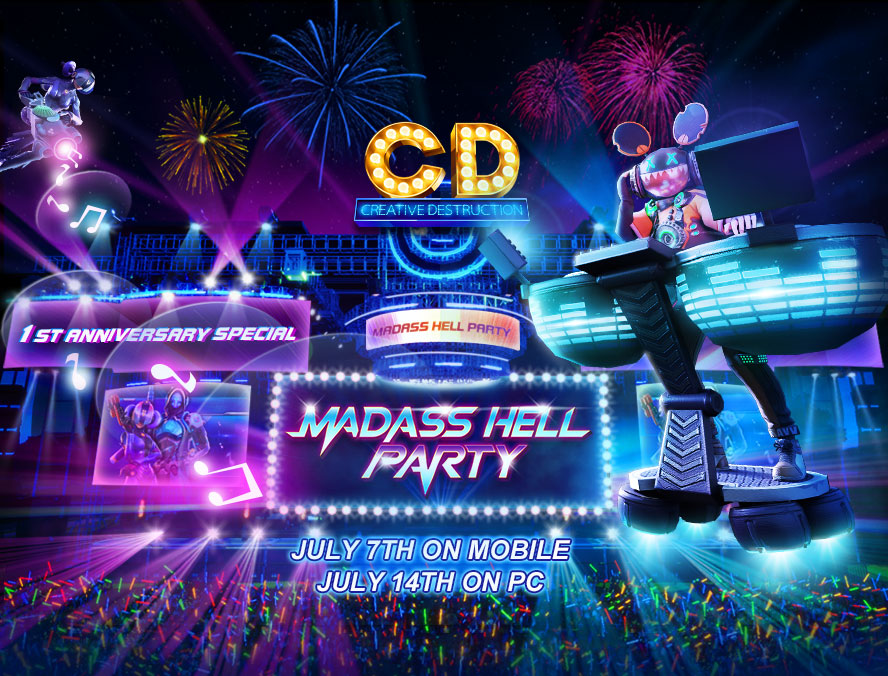 What is Hell Combat?
  Here come the HELL mode! The deathmatch has been raised to a new level!
  Two teams of 20 players each battle against one another. This battlefield will have less weapons but faster snowstorm. Players can respawn keeping their loots upon elimination. There is only one goal: the first team to reach 80 kills wins!
How to Play
  1. Sign up to join either team in your server; the C.D. Nova/Pro Players of each team take charge of choosing team members
  2. Party in a 3-round skirmish; one team must win two games to win the series
Rewards/Server
| | | |
| --- | --- | --- |
| Awards | Rewards/Player | Number of Player |
| Winning Team | 500 Diamonds | 20 |
| Losing Team | 200 Diamonds | 20 |
| Top 5 Highest Kill Record | 300 Diamonds | 5 |
| Place a Win Bet on Official Facebook Page | Bathing Hunk or Beauty - depending on which one represents the winning team | 10 |
There will also be oodles of redemption codes for diamonds during the stream!!! You can use the code to redeem for up to 1000 times! Stay tuned!

Event Period

【US mobile】July 7th PST 20:00

【LATAM mobile】July 7th UTC-3 20:00

【Asia mobile】July 7th GMT+9 20:00
【MED mobile】July 7th GMT+2 20:00

【US PC】July 14th PST 20:00
【MED PC】July 14th GMT+2 20:00

* Players in Asia Server can join those two servers


Register Now!

https://forms.gle/Qgj5UUjEEmsJCqJU7

US Mobile - Vacancy: 12 players

| | |
| --- | --- |
| TEAM A | TEAM B |
| GamingXpress :3 | Ultra_Wolf |
| Jules | ARKANTOZ |
| Tmar Tv | Dannygames |
| SpitRoastSmith | Haki |
| YT Carmin | QueenAquatic |
| WinchesterCD | SanderGames |
| THEWIZARD | Reflex |

LATAM Mobile - Vacancy: 18 players

| | |
| --- | --- |
| TEAM A | TEAM B |
| GamingXpress :3 | ZafroGamer |
| LUGIHD_YT | DemariiPro |
| Aztec Warriors Team | Panda |
| mahmood.m | AWT_Chrisss |
| Anasagz#5654 | DevilPlayz |
| | |

MED Mobile - Vacancy: 12 players

| | |
| --- | --- |
| TEAM A | TEAM B |
| TheLastCreator | Jules |
| TiFaRiX | SpitRoastSmith |
| E2MoXLegend | Bl3ster |
| KRIM AK | Medoo_cd |
| kotks | FitzGThanu |
| Padax | Pugli |
| _Nertn | Circuitgod |

AS Mobile - Vacancy: 24 players

| | |
| --- | --- |
| TEAM A | TEAM B |
| Technical SK | TheLastCreator |
| Ultra_Wolf | ZerHappy |
| Aztec Warriors Team | mahmood.m |
| AWT_Chrisss | Stop_mekilling |

US PC - Vacancy: 14 players

| | |
| --- | --- |
| TEAM A | TEAM B |
| MelFlyHope | Ancient |
| SlapTITAN | LUGIHD_YT |
| DeTodoUnPoco game &PC ZONE | *THE LAST PLAYER* |
| Tbowers | Mida |
| ItsT4ti | Drogavisual |
| JyugeN C.D | Picowold |
| ZebaCooper | NotLΣD |

MED PC - Vacancy: 14 players

| | |
| --- | --- |
| TEAM A | TEAM B |
| Ancient | PhenomalyTV |
| NotLΣD | Mida |
| Tbowers | TirMux |
| ItsT4ti | MelFlyHope |
| Haki | Glyphe#8015 |
| iTurniKill | RVL_Mnidraco_YTB |
| | |